Easter Basket Dramz!!!
I see all these moms posting pictures of the beautiful Easter baskets they made for their kids and I love it! What I hate is seeing some "defend" the amount of stuff in their kids easter bags.
STOP IT.
How did we become a society where we're scared to speak up and defend things people have been doing traditionally for yeaaars.
It's your own kid, you can do whatever the heck you want. It's not like you're going to let them eat it all at once. You know what I do? I get two zip lock bags, put their names on it and put in whatever candies they get and have them enjoy the treats throughout the year.
I saw a lot of posts of "I'm going to be a responsible mom and not give my kids any candy in their baskets!" and "Nobody's got time to make easter baskets, stop spoiling your kids moms!"
SHUT. YOUR. PIE. HOLES. Don't do it then, but don't step on your fellow moms hearts and excitement while at it.
So to the mom's who make themselves seem like better parents because they aren't giving their kids the "evil" that is sugar, STOP IT.
To the moms who are freaking out about what others think…STOP IT.
Ain't nobody winning mother of the year. No such award exists.
If y'all chose to make baskets, fantastic! If not, fantastic! YOU DO WHAT YOU WANNA DO. Stop living life caring about what others think especially when it comes to fun and creative things for your own kids.
Anywho, the whole point of Easter symbolically isn't even about the Easter Bunny or pretty pink dresses anyway…it's about the resurrection of my homie Jesus.
Have a wonderful, sugar induced, beautiful and lovely Easter everyone and God bless!
How rad are the camo eggs? If you're wondering, the basket is filled with glow in the dark stuff, Make a face sticker pads, their ever loving slime, chocolate & marshmallow candies and socks for the Hongzeff boys.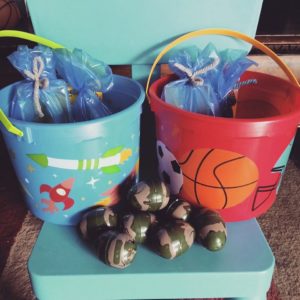 Now we're off to church!
God is good all the time.
Love you long time.