My Favorite Romance/Thriller Books of 2015
"Holy crap woman, all I see is an explosion of flesh! You need Jesus." – My dude looking at my Kindle account.
Hahahaha. Look, I can love the bomchickaboomboom AND love the Jesus.
I like to read a mixture of everything from Bret Easton Ellis, Neil Gaiman and Steinbeck but for this post, I'm talking about the genre of Adult fiction, Romance and Thrillers.
What Mike doesn't know is that these books are not just about love but also about life, heartbreak, growth, spirituality, family, faith and they are all written by amazing writers I have come to adore and admire. These award winning writers interact with their fans on a daily basis on FB and are as humble as they come. I was lucky enough to meet most of my favorites this year and I also mentioned some of them in the interview I did with OC Mom Magazine in September, so I'm hoping there are a lot more mamas out there enjoying the books as much as I am. Good times!
I went to "The Authors in the OC" event in October which was my first book signing ever and had the best time meeting some of my most favorite authors and meeting amazing book homies who have now become great friends! The event was put together by Glorya Hidalgo of Nerdy Chic Productions with proceeds going to the Avon Walk for Breast Cancer via the Fifty Shades of Pink team.  My next book signing was in November at Chevalier's Books in LA, "A Talk and Signing with Colleen Hoover for her New Book November 9″ event which was amaaaazing.
After the kids and my dude have gone to bed, it's mommy time! How do I spend it? By reading and crocheting at the same time. I know, party animal. 😉
I love these authors and you cannot go wrong with the magic that is Colleen Hoover, Tarryn Fisher, Amy Harmon, Kim Holden, Kimi Flores/ K.A Hunter, Caroline Kepnes, Brittainy C. Cherry, Mia Sheridan, Beth Flynn, Angel Payne, Krista & Becca Ritchie & Jojo Moyes.  They aren't your old school mama's romance novels or thrillers either. A lot of these books will stay with you long after you've finished them and some dare I say…will even change your life.
I enjoy all their books but here's my must read list:
Hoover: November 9, Ugly Love, Maybe Someday
Fisher: LMWL's series, Mud Vein and Marrow
Harmon: Making Faces, The Law of Moses
Holden: Bright Side, Gus
Flores/ K.A Hunter: Relinquished
Kepnes: You
Cherry: The Air He Breathes, Loving Mr. Daniels
Sheridan: Archer's Voice
Flynn: 9 minutes
Ritchie sisters: The Addicted Series
Moyes: Me Before You
Payne: The Wild Boys Series
Here are the rest of the books I enjoyed in 2015!
Let me know what you think!
I also won a rad giveaway contest on FB a week ago by The Dirty Book Girls and won an autographed surprise book. Click on their link and check them out! I got it today and I can't wait to read it! I had heard good things about this one too!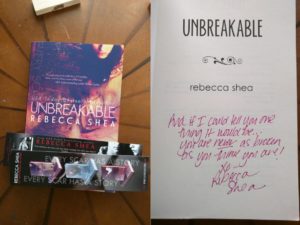 Love you long time,