Compliment, Magnify and Love your Tribe and Yourself.
I saw this last night and I absolutely love it. It speaks truth. It's inspiring. It's a great way to be to be for sure. I love doing this and will continue to do this but seeing this also reminds me that not everyone who is in my life…belongs in it or will in 2016.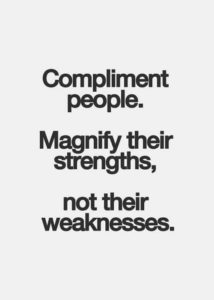 In all honesty, if you don't want to put any effort into doing any of this for someone…by all means, cut them loose.
That way you don't waste your time, they don't waste their time and there will be no illusion of a "relationship."
To me, walking away from people that just don't fit in your life would be an act of kindness. If I've learned anything getting older, it's that ain't nobody got time to be constantly annoyed, angry and just bewildered by someone.
It ain't like the movies, life doesn't always end with a ribbon on top and a happily ever after together.
Sometimes it ends with a happily ever after just for you and for them…on different paths.
And that's totally rad too.
Life is a great journey…do it feeling FREE.
I sure as hell am gonna try.
Be brave.
Thanks for going on this journey with me…I appreciate you more than you know.