Practicing the Art of Humility for the Greater Good
One of the greatest things about my life is the church I attend. I've been going to Newsong since I was 19 and now it's even more rad because I go there with my husband and two little boys. Lead Pastor Dave Gibbons and the other great speakers at the church always seem to know exactly what you need to hear on any given Sunday.

Today's message wasn't only powerful for me, but also for my husband. 
It was about how to deal with broken relationships of any kind and ways to mend it so it's healthy for you and good in the eyes of God. Here are the notes I took today during the much needed and humbling message. 
Finite and infinite thinking…it makes a huge difference in how you approach a situation. 
Humility and obedience…the mindset to serve others. Life shouldn't be about comparing yourself to others or trying to get the 50% and making it "fair" it's about what you can do to make the journey in your relationships work smoothly and to be thankful for all your blessings. 
It's not about your shortcomings…it's about what you do with what you have. 
God is about structure but he entered the world of messiness and brokenness to guide people…that's called humility in its most purest form. 
If you look at every effective great global leader out there, they have the quality of humility which makes them a true leader. 
The most powerful and honorable person is the one who is humble and loves others…those who not only help themselves but others…the weak, the lost…the misfits. 
And that's what our church is all about…the church for misfits. Cause let's keep it real real…we are all a work in progress struggling and thriving to be good and to reach our full potential. 
One of the crucial things, is to never give up…breakthroughs take time…excellence will emerge in the mundane.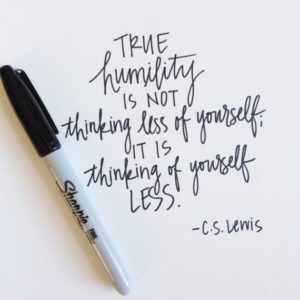 God did what was right…not easy, not self serving. We are capable of the very same thing…we can always try.

When you get out of your comfort zone to do what you think your heart and God wants you to do, you take the risk of looking stupid or being wrong…but you take that chance…cause it could be life changing and it can give you a new life of courage, humility, and a new way of looking at the world. It is an extremely powerful thing. 
In relationships, someone needs to humble themselves so grace can come in…and take its place in both of your lives. 
Maybe the way the river can flow in your relationship again is for one of you to go "lower" and be more understanding and willing to choose your battles. 
Activate the spirit of humility. Let God speak to you. Let him do his thang. 
So when God speaks to you…listen. Pay attention. Keep the faith. Let it guide you in all that you do. 
I absolutely loved Dave's words today because it applied to motherhood, marriage, dating, friendships and families. I can't wait to hear what he has in store for us next Sunday.
If you're looking for a church, please check out Newsong. We used to be in Irvine but we moved to Santa Ana with the heart and longing to serve the community and spread the love of God and kindness there.
Thanks for reading and keep on, keep on…
Let's make our lives exactly the way it was intended to be lived…with purpose and sweet understanding of the human condition so we can have healthy relationships with others and own hearts.
Here's to an amazing rest of the week!