Book Review: Bad Mommy by the great Tarryn Fisher
I love Tarryn Fisher. Her writing, how she loves her fans and how she tries to live her life with purpose and adventure without giving a crap about what other think is why people are drawn to her and her talent for writing really great stories.
This one doesn't disappoint. From beginning to the explosive ending, you are held hostage in the world of chaos, deception and raw human error and you can't stop reading. The clever thing about this book is that you as a reader can see yourself being them to a certain degree. We are all guilty of the flaws Fig, Jolene and Darius possess and that in itself makes it an intriguing read.
This is a must read for all Tarryn Fisher fans. It will leave your head spinning and looking for clues away from the book.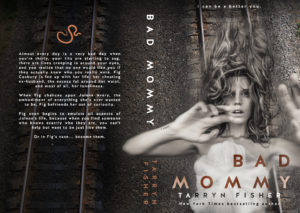 This was probably the bravest thing I've ever read and I love Ms. Fisher even more because of it.
I thought it was like SWF but way better cause it was REALISTIC…that ending though…That was her basically saying, "Yep, this happened, I'm saying it outloud and I have no shame."
It was like she exhaled…and we all did with her.
This book was no Mud Vein or Marrow for me but it was absolutely a fantastic read and I loved it cause it was written so purely and personally. It's my 3rd favorite book by her now.
You know what else is crazy? As crazy as they all seemed? We are all Figs, Darius and Jolene's to some degree. We ALL are and I think it's rad that we are able to admit this fact.
I'm gonna do a reread starting tonight. Haha.
Tarryn has balls…BIG GIANT ONES. if you're going to write, might as well go big  and I love her more for it.
Slay Tarryn…slay.
You can find the book here…One click it, you won't regret it.
https://www.amazon.com/Bad-Mommy-Tarryn-Fisher-ebook/dp/B01N7LNCZQ