Book Review: Background Music by J.R. Rogue
I'm a huge fan of J.R. Rogue's poetry so I was curious and excited to read a book by her, and Background Music doesn't disappoint. It grabbed me from the beginning and held my interest till the end. 
That prologue thought.
Dayum. 
The back and forth storylines confused me a bit in the beginning but you get used to it cause the characters grow on you…so overall, it was great. I don't typically highlight a lot of the books I read but I found myself loving so many lines from the book and highlighting again and again. 
My favorite line? 
"You can forgive someone for the crimes they have made against you for their benefit. It's easy, and the reward is immediate, if not shallow. Then there is forgiving someone for yourself. To be free of the weight it has placed on your bones, on your soul. This was a mixture of both."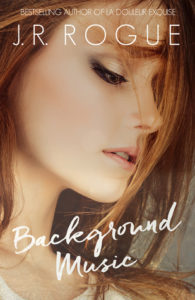 I liked the main characters but my favorite was Kat. She is so authentic and real…her softness while being strong is all of us, I think. 

The book wasn't only about love but about being able to move on…for the kind of happiness and life everyone deserves no matter where you come from or who you are perceived to be. It was also about putting the needs of those you truly love ahead of yours and growing as person because of it.

I really enjoyed it. The playlist is the radness too. 
I can't wait for this book to be released and for everyone else to enjoy it. You can pre-order the kindle edition now…release date is March 9th.

I'll also be giving away e-copies of the book on the release date.